Profile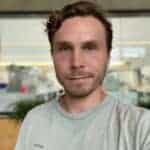 Alan Wanke
About Me:

Born in Poland, grown up in Germany and now for my work as post-doc in Cambridge (UK). I recently redisocvered my joy in Swing dances like Lindy Hop, Charleston and Balboa. Big fan of bikepacking (traveling by bike), hiking and indie movies.

My Work:

I have been always fascinated by the diversity of interactions between plants and fungi. Fungi have facilitated the transition of plants from water to land more than 400 million years ago. Back then, fungal networks have served as a surrogate root system for initially rootless plants. This helped plants to acquire nutrients in exchange for plant-produced sugars. At the same time, fungi are the main cause of plant diseases, which can lead to devastating losses in agriculture. This means that plants need to come up with strategies to differentiate who's a friend and who's a foe.

Currently I am trying to understand what characterises a beneficial partnership between plants and fungi. What are the commonalities between different kinds of beneficial interactions? And how did these interactions look like 400 million years ago?

My Typical Day:

7:30 – The radio wakes me up. Some time for myself and a bit of excercise to get going!

9:00 – Ready for the first coffee at work while I answer my mails. And then the lab work gets started.

12:30 – Lunch time, always good to catch up with colleagues on ongoing experiments.

13:15 – More lab work. Sometimes I also perform some "computational experiments". For this, I mainly investigate large DNA datasets from different fungi (their genomes) in order to detect similar gene signatures. In other words: The DNA represents the organismic blueprint of fungi. Do some beneficial fungi have similar patterns in their blueprints? From these insights I can formulate new hypothesis for my experiments.

17:00 – I try to wrap the experimental work and document all of today's work in my lab journal. A few more mails to be answered before I head home.

What I'd do with the prize money:

I would visit public allotments in order to look for fungal partnerships in roots of their own veggies. Together, we would use molecular and microscopic methods to characerise these fungal communities in their gardens. My bet: we will find a fungus in each individual root!

My Interview

What did you want to be after you left school?

I initially wanted to become a medical engineer - until I got fascinated by the hidden secrets of plants!

Were you ever in trouble at school?

Have I ever not been in trouble at school?

Who is your favourite singer or band?

Lizzo

What's your favourite food?

I love a good pizza

If you had 3 wishes for yourself what would they be? - be honest!

To stay curious, optimistic and

Tell us a joke.

How would you call a taxi service for potatoes? 🥔 Tuber!
---
---
---