Profile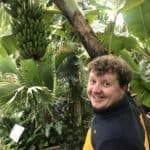 Andrew Wood
About Me:

I'm a PhD researcher based in Oxford. I play tennis and hockey in my spare time, love baking, and am particularly fond of a wild swim – especially when it is chilly!

My Work:

I'm a plant scientist working on how we measure taste and smell quality in both chocolate and wine plants!

Read more

I'm a PhD student working on how we measure quality in both chocolate (Cacao) and wine  (grape vines). I look not just at quantity (yield), but also quality – making sure it tastes nice! How we taste and what we taste is a really important part of our food, but we know so little about it! Ask me more if you want to find out!

My Typical Day:

I wake up and have a hot cross bun, before cycling through the park and by the river into the city of Oxford. Here I meander to my department where I work on the computer, have meetings, and occasionally teach students. I have lunch with my friends and then back to more analysis of my data. Home means dinner time, before I socialise with my friends and enjoy the wonderful place I get to call home!

Read more

My typical day is quite similar in terms of where I do it – my computer in my office, but what varies is what I do on my computer, and what aspects I look at. My models are different types of maths which capture what goes on in the real world, to find the patterns. Don't worry if you don't like maths, I didn't either until it became super useful as a tool to explain and explore the natural world around me!

What I'd do with the prize money:

I have previously hosted a public engagement wine night at the Oxford Botanic Gardens where I talked about my work and the wines that I look at alongside a sommelier. I would love to host something similar for my next chapter of my thesis, and have a section on wine but also on our chocolate work too!

My CV

Education:

I went to secondary school at Tiffin School in Kingston, and then changed to Hampton at Sixth Form. After that I went to Oxford to study biology (the best subject!), before staying on to do my PhD here.

Qualifications:

GCSES, A-Levels, Biology Undergraduate, Biology PhD

Current Job:

Employer:

My Interview

How would you describe yourself in 3 words?

The chocolate and wine guy

What did you want to be after you left school?

Unsure!

Were you ever in trouble at school?

Not very often!

If you weren't doing this job, what would you choose instead?

Something in the field!

Who is your favourite singer or band?

Passenger

What's your favourite food?

Fish and chips

If you had 3 wishes for yourself what would they be? - be honest!

My own research station to explore more about my plants!
---
---
---