Profile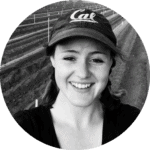 Annis Richardson
About Me:

I am a lecturer in plant sciences at the University of Edinburgh which means I run my own lab and teach students. I am also head of our plant science honours degree program. I love traveling, hiking, cooking, working out and watching movies.

My Work:

In my lab we study how leaves and flowers in crops like barley and sweetcorn (maize) grow. By understanding how plants grow we can help make new crops that can produce more food.

Read more

We all rely on grasses to live. Most of our main foods are grasses (like wheat, maize, rice, barley and sugar cane) or are fed by grasses (like cows). I study how grasses grow and how this affects the parts that we eat. By understanding how plants grow we can help produce new crops that produce more of what we need under different environmental conditions.

To understand how plants grow I study normal plants and plants which have defects (mutations). These mutants can look very strange, like this mutant which is really short and has twisted leaves.

(A mutant maize plant)

(A normal maize plant)

By understanding what is happening in mutant plants we can better understand what is needed to grow a normal plant, and how we can change it to make it better at growing our food.

I grow lots of plants in the greenhouse and in the summer I grow plants in a field which means I get to spend lots of time outside.

(Growing maize in a field in California) 

        (Growing maize in a greenhouse)

I use many of different methods to study grasses. I use microscopes to look closely at the cells as they grow and divide. I also use molecular biology/ chemistry to study the DNA, RNA and protein in my different plants to see what is going on. I also use transgenic plants, like these plants that have green fluorescent protein in them, to tell me about what is going on inside the plant. I can also use computer models to make virtual plants and test ideas.

 (GFP cells in the female part of the barley flower)

If you would like to find out more about my lab, check out these links:   https://www.ed.ac.uk/profile/dr-annis-richardson

 http://www.theplantshapelab.org

My Typical Day:

My day is always different, which is something that I love about my job!

Read more

On a "typical day" I get up and I work out. Then I eat breakfast, my favourite is pancakes.

When I get to work I usually go and check my plants in the greenhouse to see if I need to do anything. Then I check my emails and respond to any requests from students or collaborators.

(Growing barley in the greenhouse)

After lunch, I do my experiments. My favourite ones are when I dissect my plants down to the smallest leaves and look at them under the microscope.

(The lab)

Sometimes I give lectures, run lab practical classes or discussion groups with undergraduate students. I enjoy talking with the students, it is great when they are enthusiastic about a topic I am teaching and they understand it better at the end of the class.

My CV

Education:

I went to Barrow CofE Primary School which was tiny (there were only 80 students there!).
I then went to William Brookes Secondary School for my GSCEs and then Thomas Telford School for my A-levels.
I had always wanted to got to Cambridge to study science, and I managed to do just that! I got my degree at Cambridge University, where I met a lot of people who had also gone to normal schools so it wasn't as scary as I thought it would be. I met so many amazing scientists and this was where I switched to a focus on plant sciences.

I did my PhD at the John Innes Centre (JIC), Norwich (which partners with the University of East Anglia). JIC is a plant and microbe specialist research institute and it was an amazing place to study plant development.

Qualifications:

GCSEs: English, English Literature, Science, Maths, Geography, History, Food Technology, French

A-levels: Maths, Chemistry, Biology, ICT, General Studies

Bsc: BSc Biological Natural Sciences

PhD: Plant Developmental Biology

Work History:

I have done a lot of different jobs! I worked every holiday during my A-levels and my degree. I was a baby sitter, cleaner, porcelain painter, museum demonstrator, baker, chef, waiter, office assistant, dog sitter.
During my PhD I worked part time as a lab demonstrator and undergraduate exam invigilator and marker.
Then I went to the USA to be a scientist in the lab of Professor Sarah Hake at the University of California, Berkeley.

My Interview

How would you describe yourself in 3 words?

Woman in science

What did you want to be after you left school?

I knew that I wanted to study science, I think I was going to be a vet or a doctor.

Were you ever in trouble at school?

No

Who is your favourite singer or band?

It changes all the time! At the moment it is Ed Sheeran.

What's your favourite food?

Chocolate

If you had 3 wishes for yourself what would they be? - be honest!

To be happy. To travel and see the world. To make others happy.

Tell us a joke.

What is the fastest type of cake..... S'cone.....
---
---
---