Profile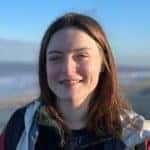 Caroline Stone
About Me:

Hello, I'm Caroline. I'm 28 and live in Norwich, where I am PhD student working on plant sciences. In my spare time I like reading and gardening, and have just started getting into Park Run on Saturday mornings with my work friends!

Read more

I don't have any pets so in the garden I particularly like looking after the wild birds and hedgehogs which visit. In the summer I grow vegetables and read in my hammock. I enjoy board games including fast ones like bananagrams and longer ones like Catan. I like to keep up with my friends who live in other cities, and sometimes we play games like Among Us online. I am a beginner German learner!

My Work:

I'm working on the immune system of rice plants, to help understand how this staple crop plant fights off fungal disease!

Read more

My colleagues and I want to understand how the protein machinery of the plant immune system works. When a fungus, bacterium, or other pathogen invades the plant cell, it uses small proteins called "effectors" to help with the infection. The proteins of the plant immune system can recognise the effector protein, and trigger the immune response which will help fight off the invading pathogen! We hope our findings will help with producing rice plants with better disease resistance in the future.

My Typical Day:

I wake up and have breakfast (toast and tea) before cycling to the lab. I'm not very good at getting up on time in the winter but I try to make sure I'm at work by 10:00 AM. At work I do experiments in the lab, or sometimes there is a lecture or seminar to attend. I have a break for lunch with my labmates, and then I make plans and analyse data on the computer before going home at 6:00 PM.

Read more

My typical day can vary a lot, which is part of what makes my job so fun. Sometimes I have a big experiment to do in the lab, which can be very busy. On other days, I can choose the pace because I am mainly working at my computer, making plans or analysing data. Sometimes I am involved in writing reports to share my findings with others, or I make a powerpoint presentation to share with my lab colleages in lab meetings.

In the lab I use a range of techniques. I start with molecular cloning, which is cutting and joining DNA to make produce the rice plant immune system proteins I work on. I produce these proteins in 2L flasks of E. coli bacteria, and then purify them using special machinery. Once I have the protein, I can test how well it sticks to and recognises proteins from the fungal pathogen I work on, and then use structural biology methods to find out the 3D structure of the proteins.

What I'd do with the prize money:

If I won the prize money, I would 3D print lots of models of the proteins I work on. It would be great to play with and hold them, like a three-dimensional jigsaw puzzle.

Sometimes scientists from the John Innes Centre visit schools, or have school groups visit us. If we had more models, perhaps we could even give some away for school science lessons!

My CV

Education:

I went to school in Oxford. My favourite subjects were definitely the sciences and maths, by a long way. I then went to the University of Cambridge to study Natural Sciences where I discovered that the practical lab work was my favourite part. I eventually specialised in Plant Sciences and graduated with a bachelors degree.

Qualifications:

I did GCSE's including maths, double science, design technology. At my school you also had to do a modern foreign language for GCSE, so I did French. I found this incredibly stressful because I couldn't find a good way to remember the words!

My A-levels were Maths, Biology, Chemistry, and Physics, which led on quite naturally to my undergraduate degree in Natural Sciences.

Work History:

I have had all sorts of casual jobs throughout my school and university years including babysitting, pool lifeguarding, pub restaurant waitressing, newsletter delivery round, sandwich shop and barista work (including delivery by big cargo bike!).

After my degree, I knew I wanted to do something in a lab but didn't want to commit to a PhD or the academic career path. I looked around for technician and research assistant jobs, and started as a reasearch assistant in a group in a Cambridge research institute, the MRC LMB (Medical Research Council Laboratory of Molecular Biology).  I worked there for three years as part of a team working on dynein protein, a tiny molecular motor which is used for transport inside our cells.

I learnt a lot about working with proteins in that lab, and got hooked! I decided I wanted to use protein biology and using structural biology in my future career. After this, I began my PhD at the John Innes Centre.

Current Job:

My current job is as a PhD student in the lab of Mark Banfield, working on the immune system of rice plants. I'm already in my third year and have a year and a half left.

Employer:

I work at the John Innes Centre

My Interview

How would you describe yourself in 3 words?

plant protein enthusiast

What did you want to be after you left school?

To be honest, I always thought I'd want to do something in science. My ideas for exactly what job that would be keep changing though.

Were you ever in trouble at school?

Not usually! My mum was actually a teacher at my school, so I knew that if I was naughty she'd hear about it very soon!

If you weren't doing this job, what would you choose instead?

Perhaps a teacher

Who is your favourite singer or band?

Foals

What's your favourite food?

Lasagne, and anything with butternut squash. I work on rice plants, so rice too of course!

Tell us a joke.

How do you make an octopus laugh? You give it ten-tickles...
---
---
---