Profile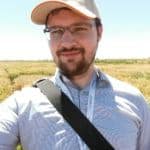 Nikolai Adamski
About Me:

I live with my wife and three small boys (the older 2 are twins) in Norwich. When I am not working as a plant scientist, I do things with my family, like hiking, swimming, going to the zoo, etc. I love playing video games, board games, card games (really any game 😁), and reading Sci-Fi and Fantasy novels.

Read more

I have always loved playing games, either by myself or with others. I played a lot of TTRPGs and other tabletop games when I was in my teens and tweens. I was also an avid Sci-Fi and Fantasy novel reader. Work and family commitments mean I have little time for my hobbies. But I found ways to still have my hobbies. When I do something very simple at work, I listen to audiobooks. And once the kids are in bed (they are 5 and 2), I can play some PC video game (mostly RPGs, strategy, and point+click adventures) before my own bedtime :).

My Work:

I am a plant geneticist and I try to create better varieties of wheat to help feed the growing world population.

Read more

I am a Post-Doctoral scientist and my work focuses around the genetics of plants. That means that I am trying to understand how different genes in a plant affect the look and size of a plant (what scientists call a 'phenotype').

I work with the plants myself in the greenhouse and in the field, but I also do a lot of laboratory work and also a lot of work on the computer. This mix of different activities is what I like the most about my work:  It is very diverse.

But I do not work alone. There is a team of students and technicians around me that I work and interact with. We help each other and learn from one another. We also do fun things outside of work, like playing laser quest, rock climbing, or generally going out together.

My Typical Day:

No day is like the other: That is the best thing about my job 🙂

Read more

I plan my days in advance, which helps me to get the most out of my time. Even though my days are very different from each other, there are some things that keep coming up.

Looking at and after my plants in the glasshouse is very important, as I need healthy plants to analyse, collect leaf tissue from (for different experiments) or cross two different plants with each other. This is something I do in the morning, as it is a) very important and b) cooler in the glasshouse (you do not want to work in a hot glasshouse! *yikes*)

In late spring and during summer I will also nip out to our fields to look at and collect leaves/grains/etc from my plants growing there: That can take up quite some time, but it is nice to get out of the laboratory/greenhouse/office. Again, the best time to do this is in the morning (nice and cool).

And of course I also spend lots of time in the laboratory performing experiments, which can be great fun. This takes up most of my time; some experiemnts are short (1 hour) and some can take several days to finish.

I also spend a lot of time in front of my computer reading scienfitic articles, writing my own scientific articles, exchanging emails with other scientists, performing scientific analyses and doing a little bit of coding (which is called bioinformatics). I mostly do these things in my "spare time" between working with plants and doing experiments.

Since becoming a parent to twin boys and then to another little boy, most of my remaining time in the day/night is spent rasing and having fun with them 🙂

What I'd do with the prize money:

I would probably donate the money to a local school for them to buy scientific equipment. Alternatively, I would use the money to organize trips for school students to come to the John Innes Centre: We have a lab designed specifically for school classes where the students can do experiemtns with scientists.

My CV

Education:

I went to school (elementary school, then high school until age 19) and university in Germany.  I did my PhD at the John Innes Centre in conjunction with the University of East Anglia (UEA) from 2009-2013

Qualifications:

For my high-school degree, called "Abitur", I majored in German and Physics, which was an odd combination (usually you would do Math and Physics or German and History).

After high school I enrolled for an undergraduate degree program in Biology (Diplom; equivalent to a Master's degree) at the University of Freburg, Germany.

I applied for a PhD programme at the John Innes Centre, co-run with the University of East Anglia and received my PhD in 2013.

Work History:

When I finished high school, Germany was still drafting young men into the army at that time. As a conscientious objector to violence, I chose instead to work in a hospital for 9 months. I was helping nurses with dressings, cleaning bed pans, taking the vitals (pulse, heart rate) of patients, etc. It was a fantastic and humbling experience.

During my undergraduate degree, I worked as a student helper for 4 years at my old university in Germany (Albert-Ludwigs-Universität, Freiburg im Breisgau), before working as a PhD student and later as a Post-Doctoral scientist at the John Innes Centre.

Employer:

My Interview

How would you describe yourself in 3 words?

curious; friendly; scientist

What did you want to be after you left school?

I did not really know what I wanted to be, but I liked biology and chemistry in school, so I enrolled for both subjects at university and decided to stick with biology.

Were you ever in trouble at school?

Not really…

If you weren't doing this job, what would you choose instead?

Being a successful youtube video game streamer like "Splattercatgaming" :)

Who is your favourite singer or band?

I don't have a favourite band or singer. I like a lot of different music styles, so depending on my mood I listen to Taylor Swift, Muse, The Prodigy, etc… Lately, I've been listening to a lot of synth wave music, as it's a throwback to my childhood #old

What's your favourite food?

Lasagne! I could eat it every day.

If you had 3 wishes for yourself what would they be? - be honest!

1. money to pay for all the science experiments I want to do, 2. a lifetime supply of lasagne, 3. enough time to finish playing all my favourite video games

Tell us a joke.

I can tolerate algebra, maybe even a little calculus. But geometry is where I draw the line.
---
---
---