Profile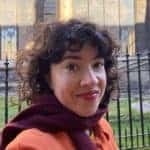 Patricia Garay
About Me:

I love to read and watch TV and paint and dance to pop and hip hop and Motown and electronic music. Indian food is my very favourite food–but I always want to try more types of food too!

Read more

I like sci-fi and romantic comedies and sad stories and stand up comedy.

I try to learn about history because we need to learn the past to understand why things are the way they are! I like learning about other countries and cultures because the world is HUGE!!!

I love science but I think being kind and standing up for yourself and other people is more important than being good at science or math or writing.

My dad is Mexican American but because he grew up in the US he had to learn to act differently and only learn English in order to fit in and get a good job. Now I want to visit Mexico and learn Spanish!

My mom died 14 years ago and I still miss her. I have an older sister and I had a foster sister for a year. I love them a lot.

My favourite things about my personality are I am very curious and I sometimes am brave.

My favourite things about my looks are I like my nose and eyes and lips and hair and how strong my legs are!

My Work:

I study how plants and animals grow! I want to find new ways we can grow healthy yummy plants!

Read more

Every plant, kitten, bug, worm, and flower is made up of CELLS!

Cells are like bags of jelly and water with lots of chemicals inside that make things happen. I study DNA–a chemical that lives in the center of a cell.

DNA looks like a long piece of thread wrapped up around a lot of little beads–but what it DOES is act like a book of instructions to tell the cells what to do! For example, it will tell the cell to turn into a root, or a leaf, or a flower petal–or in animals, a heart, a nose, an eye, or a hair!

The funny thing is, if DNA were a book of instructions, it is NOT a well-organised book! Imagine a big binder full of papers, some pieces are stuck together, most are out of order, so it's hard to follow the instructions.

I study how each cell type–a petal cell, or a root cell for example, does the work of organising the binder so that the right to-do lists and recipes are in the right order and ready to use!

In the lab, this means you'll see me grinding up plant leaves with a pestle and mortar, like you might do with spices, to break inside the plant cells. Then I use other chemicals (like alcohol!) to get out the DNA and find out how it is organised!

With this knowledge, we can find new ways to grow healthy delicious fruits and vegetables and grain, to find special friendly bacteria that protect plants against mold, and even to find cures for diseases like cancer and immune disorders!
---
---
---