Profile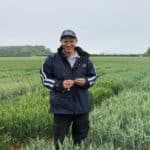 Phil Howell
About Me:

I work as a crop scientist in Cambridge and live in a small village with my wife, teenage son and two dogs. We all love to spend time outside in our large, messy garden.

Read more

I grew up as part of a big family in the Midlands. As a youngster I worked hard at school and played as much cricket as possible. After studying science at university, where I also played as much cricket as possible, I worked in Norwich for 5 years and have been in and around Cambridge since 1997. I'm passionate about where the food we eat comes from and love to make my own bread, sometimes even made from the actual seeds I work on!

My pronouns are:

My pronouns are he/him

My Work:

I study some of the crops that farmers grow. In particular, I am interested in how to make crops more productive, more nutritious and kinder to the environment.

Read more

Farmers face lots of challenges trying to grow healthy and nutritious food. For example, if the weather is too hot or too cold, too wet or too dry, it can spoil their crops and make harvest difficult.  A big part of my job is to help improve these crops so they can withstand these stresses. Often this involves looking at the wild relatives of the crops, or varieties from overseas. First, we see if these have useful solutions to the problems our crops face. If they do, we can transfer these solutions into the types of crop varieties farmers are used to growing. Even using modern technology, in the lab and the glasshouse, this can take a long time!

My Typical Day:

Most days start and end at my desk, checking what needs to be done, catching up with other people and answering emails. I also spend a lot of time looking at results, planning new experiments and writing reports. This is usually done as a team so we often have meetings to discuss things together. The fun bits are experiments in the lab, in the field or in the glasshouse. Part of my job is also to explain our work to farmers, other scientists, important visitors, university students and schools. This might involve showing them plants in the field or glasshouse, giving a slideshow or writing an article.

Read more

My job is at its best in the summer. I'll spend as much time as possible in the field, where we run lots of experiments called field trials, which are set up to anwer particular questions. I'll walk through these trials and look at each plot, making notes and measurements. Often I'll take lots of photographs too as they also help to explain what we see. These fields are usually fairly close but I also travel around the country to look at fields where the soil or weather is quite different, to see how this affects how our crops grow

.

What I'd do with the prize money:

I'd spend the money on a "show and tell" hands-on experience showing where bread, our most common staple food, comes from. We'd start with the wheat seeds that are planted, look at young seedlings, older plants at flowering time, mature plants that are ready to harvest, and bags of grain that have been harvested. Then we would mill the grain into flour, mix the flour into dough, and look at loaves baked with different types of wheat.

This could be worked up into a "kit" that teachers could demonstrate in their own schools. For demonstration we could have all the different stages brought together but teachers could use it as a real-time project where students plant and grow the seeds themselves and see how they change through the school year (although harvest is usually in August, so we might have to cheat a bit with that!!). As a rough guide, a small plot of wheat measuring around 2 square metres should produce around 1kg of flour.

My CV

Education:

Educated in state schools (infant/junior school in Kidderminster, secondary school in Hagley). Interested in everything, especially science and especially biology. Lots of after school activities, especially sports. My 5 older brothers and sisters all went to college or university, so this always seemed like the obvious next step after school.

At high school we had good teachers who wanted to students to reach their full potential and most sixth formers went to university or college. A few of us were encouraged to apply to Cambridge; two of us applied and we were both succesful. We were the first from our school to get into Oxford or Cambridge, 10 years after our school's first successful application to any university.

I chose Fitzwilliam College, Cambridge which had a high proportion of students from similar school backgrounds to me. Lectures, practicals and tutorials (lessons in small groups of 3 or 4 plus our tutor) were often with students from other colleges. Halfway through my first year we had some brilliant lectures about plants which helped to set my career path. I also cycled past the old Plant Breeding Institute (now a park and ride!) and saw thousands of field trial plots neatly laid out. I found out a bit about what was involved and decided that I'd like to become a plant breeder. As I moved through my second and third years I specialised in plants and genetics. I hoped to study for a PhD somewhere and had several interviews but my degree wasn't quite good enough – I hadn't studied properly, too busy having fun – so when I graduated I still didn't have a career mapped out.

I was fortunate that my post-graduate employer was supportive of me registering for a part-time PhD whilst working. Although this had to start as an M Phil (because of my average degree grade) this was upgraded to PhD after my first year report. As a part-time student it took longer to finish my PhD than a standard student, but at least it meant I earned a salary!

Qualifications:

1986-7 9 'O' levels (6 x grade 'A' including Maths, Biology, Chemistry, Physics, 3 x grade 'B')

1998-9 2 GCSEs (2 x grade 'A' taken during 6th form)

1989 4 A-levels Biology, Chemistry, Pure Maths & Statistics, General Studies, all grade 'A'

1992 BA (Hons) University of Cambridge, Natural Sciences (2ii; final year Plant Sciences)

1998 PhD, University of East Anglia

Work History:

I was always keen to earn my own money to help my parents out and increase my independence. This started as soon as I turned 14, delivering newspapers 6 mornings a week before school. I worked out I was being paid around 50p per hour! After a couple of years I gave this up to concentrate on schoolwork.

In school holidays I would help out at a local farm. This started after 'O'levels at 16 with a strawberry-picking job and they kept me on all summer helping with other jobs, plus some work at other times (turkey plucking before Christmas etc). I worked there during holidays for the next couple of years, plus other manual jobs (helping a builder, working elsewhere as a seasonal farm worker).

I built up healthy overdrafts as a student but worked hard every summer to clear these. Summer 1990 was spent in a workshop that reconditioned furniture, then back to a farm for harvest work; summer 1991 was spent in the university labs funded by a summer studentship grant, plus bar work at a pub in town; after graduation I spent summer 1992 working as a seasonal helper at a local plant nursery with some friends.

Then I applied for 'proper' science jobs. John Innes Centre, Norwich 1992-1997 was the start of my crop science career. Here I worked in the lab, glasshouse and field on a project sponsored by several plant breeders, and registered for my part-time PhD. In 1997 my boss was headhunted to set up a new lab in Canada. Rather than moving to Birmingham with my project, I started to apply for plant breeding jobs.

I was offered the third job I applied for, as Assistant Wheat Breeder just outside Cambridge, starting in summer 1997. In 2001 there was a reorganisation and I was promoted to Senior UK wheat breeder, which I held until 2006. This was a lot of fieldwork, some lab work, and lots of data handling and record keeping. We were a small team within a larger organisation and I needed to learn lots of practical skills, work long hours and be prepared to travel. I left in 2006 for family reasons, just as the first wheat varieties I had bred were about to break into the market.

After a short career break, I looked for part-time employment and was offered a position at NIAB in 2007. This started at 15 hours a week and although this has increased I still work part-time and enjoy the flexibility and balance this offers me. I began working just on wheat but over time have been asked to take on several crops.

Employer:

I'm employed by NIAB, the UK's largest independent crop science organisation https://www.niab.com/. We work on crops for agriculture and horticulture, with a large emphasis on "translation": not just carrying out research, but putting it into practice to solve real world problems. We are funded through a variety of sources, from the UK government through to private contracts from commercial partners. Our headquarters is in Cambridge but we run 12 regional centres around England, including a large research centre in Kent which focuses on fruit and horticulture research.

My Interview

How would you describe yourself in 3 words?

Makes better crops

What did you want to be after you left school?

Some sort of biologist

Were you ever in trouble at school?

A few times for being cheeky, but not often

If you weren't doing this job, what would you choose instead?

A combination of gardener, writer and cricket commentator

Who is your favourite singer or band?

The Breeders (of course!)

What's your favourite food?

I make a mean Thai curry with noodles

If you had 3 wishes for yourself what would they be? - be honest!

1 - to have more time (to work, to rest and to play). 2 - that I can stop getting older, ideally I'd rewind to about age 29. 3 - that summers lasted longer, as there's always so much to do and no time to do it

Tell us a joke.

What's brown and sticky? A stick!
---
---
---