Profile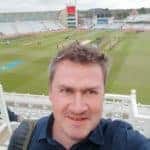 Sam Mugford
About Me:

Here's why i think you should vote for me:

I live just outside Norwich with my wife, cats, and chickens. I work as a plant scientist at the John Innes Centre. I enjoy brewing beer, cycling, canoeing, wild camping and building strange machines.

Read more

I've lived and worked in Norwich for the last 17 years or so, it's a great place to live and the John Innes is a great place to do SCIENCE. I grew up in Oxfordshire, and studied in Bath and Oxford before moving to Norwich with my wife Sarah.

I really enjoy brewing beer, it requires a lot of precision and the science of brewing is very interesting. Some of the science of plant metabolism I have studied and worked on in the past is relevant to the brewing, so it's great to be able to use that knowledge in my hobbies. It's great when it comes out tasting good too.

I love cycling. I like to get about on my bike as it saves using a car, keeps me (relatively) fit and gets me outdoors. I think the world would be a better place if people used their cars less and everyone would be happier if they rode their bikes more.

We've got three chickens that live in the garden, we had more in the past. They're all named after lifeboats (Sarah is a lifeboat enthusiast). I sell their eggs to my colleagues at work when we have more than we can eat. We also have 2 cats (Beryl and Jack).

I spend some time with my dad working on his latest creations. Mum and Dad live nearby, and Dad is a little disabled so needs some help. He likes to make abstract sculptures that move in the wind, and I help him.

I really enjoy doing science as a job. The John Innes Centre is a great place full of very interesting people. It's hard work and sometimes stressful, but it's extremely satisfying to make new discoveries and work with some very smart people.

In 2008 I got involved in a new project called "I'm A Scientist, Get Me Out of Here!" that was just starting out, and it was great fun. So 15 years later I've come back for another try, and wow it's grown so much!

My Work:

I work on aphids- sap-sucking insects that feed on plants and cause problems for farmers and gardeners.

Read more

Aphids, and other sap-sucking insects are like mosquitos of the plant world. They have specialised mouthparts that act like piercing straws that they can poke into the plant and suck out the nutritious sap from the plant's veins, just like how a mosquito feeds on your blood. Also like mosquitos they carry diseases, especially viruses that they spread from plant to plant, and these cause a big problem for farmers.

Plants have an immune system, that helps to protect them from infection by diseases and also from insects like aphids. Plants can sense when they are under attack and can respond by making poisonous chemicals, or by growing thorns, or even by producing smells that can attract carnivorous insects that eat the aphids. We are interested in finding out how the aphids can avoid this immune system.

When the aphids feed they are very stealthy, the mouthparts move through the leaf and do very little damage except for sucking out the sap. Also they release saliva into the plant, and this contains chemicals that stop the plant from activating it's immune system, so the aphids can carry on feeding without being poisoned or eaten. We are working on finding out exactly how this all works.

We use different methods to approach this question. We have been sequencing the genomes of aphids, and also other sap-sucking insects including the spittlebugs that make cuckoo spit (ask me about cuckoo spit, it's cool and disgusting). This involves extracting the DNA from the insects, reading it out on DNA-sequencing machines, and stitching all the sequence data together with computers. Also we do biochemical analysis to find what are the proteins in the aphid saliva, and what these proteins do to the plants.

I work as part of a research group run by Prof Saskia Hogenhout. I am a research assistant, and spend most of my time doing research in the lab. I also spend some of my time helping the PhD and Masters students in the lab and helping to train them in lab methods. I also keep the lab running, making sure we have the supplies we need and we are working safely.

My Typical Day:

I usually cycle into work, and have a shower when I get there, and get into the lab at 9 or 9.30ish. I spend most of the day in the lab doing science, or in the office with other tasks and talking with colleagues. Lunch might be a sandwich in the office or in the canteen with work mates. I usually head home at 5 or 6 depending on how busy I am in the lab.

Read more

My typical day is mostly taken up with doing experiments in the lab. Most of this is molecular biology and biochemistry. Although it is all quite complicated, it mostly involves moving very small volumes of liquid from one place to another, and mixing them, heating them and cooling them, and spinning them round very very fast.

A lot of experiments involve working with plants, this might be putting DNA into them to make them do new things, feeding them to aphids to see if the aphids like them, or grinding them up into a powder to extract the DNA or proteins.

As well as working with the rest of the team in Saskia's group, I also spend time working with staff from the many support services we have at the John Innes Centre. This includes the teams that grow all our plants for us in horticultural services, the Insectary staff who look after all the insects we keep, the lab support team who prepare chemicals for us, and also do the washing up for us (we are very lucky to have them) and also the teams that look after and run some of the sophisticated technology like the microscopes and mass spectrometers.

There's also a lot of time spent at the computer analysing data and planning experiments. There's a lot of reading to do to keep up with the research published by other research groups. We have lab meetings to discuss our current work every week. There is also some admin work, a lot of emails, committee meetings, and ordering supplies for the lab.

There's socialising in the canteen over lunch or at tea time. Also we have a bar at work, which opens on Friday evenings so there's a chance for a beer and a chat before the weekend. We're also lucky to have a swimming pool, and squash courts and there's lots of sport and social clubs.

What I'd do with the prize money:

I help organise an event every year at the John Innes Centre called "Accessible Science Talks". We ask some of the leading scientists at the centre, and at the other institutes on the site, to give talks about their science. These talks are designed to be understood by everyone, so that all of the staff can understand the great work that goes on here. Normally when scientists talk about their work it is with other specialists that understand the complexity of their work, but our event gives them a chance to explain their work to a wider audience.

We open the event to a number of schools and colleges, so that students interested in science can learn about the work done at the John Innes Centre. We run the event online, so lots of schools can join in, watch the talks, and ask questions to the scientists.

If I win the £500 it means we can make the event bigger and better. We can invite more schools to join us. We can invite scientists from further away to speak at the event, and pay for their travel. I'd love to make this happen, so please help me!

My CV

Education:

I grew up in Wantage, Oxfordshire and went to King Alfred's School, where I got GCSEs and A-levels.

Then I studied Applied Biology at Bath University (this included a placement year, which I spent at the John Innes Centre in Norwich, where I now work).

After my degree I worked for two years as a research technician at a research institute in Long Ashton near Bristol.

Then I moved to Oxford, where I studied for a PhD. This took four years and I studied plants that grow in soils contaminated with heavy metals, wrote a big book and now I am Dr. Mugford.

Qualifications:

I left school with 10 GCSEs and 4 A levels.

I have a BSc Hons Degree in Applied Biology from Bath University.

I have a D. Phil from Oxford University (everyone else calls it a PhD, but Oxford University likes to be a bit different).

Work History:

When I was at school and through University I had a lot of jobs during the holidays. This included doing the ironing in a restaurant, making yogurt in a factory, loading pallets in a warehouse, packing books in a publishers, packing hampers in a fish farm, working behind the bar in a pub, working in a library, sterlising medical equipment in a hospital, and serving food in a school.

My first taste of working in a lab was during the placement year of my first degree, which I spent at the John Innes Centre studying plants that make anti-cancer drugs, and I was hooked! Doing science for a living felt so different to every job I'd ever done before because it was just so interesting, every day was different, and you work with people who also love their jobs.

After my first degree I wasn't really sure of the best way to find a career in research science. I'd worked with people who were studying for PhDs at the John Innes Centre and I could see it was a difficult path. So I found a job as a research technician at Long Ashton Research Station near Bristol, where I worked on engineering plants to make fish oils. I learnt a lot about doing research science, and a lot of practical skills like how to do molecular biology and how to genetically engineer plants, and I felt ready to study more so I started looking for PhD positions.

During my PhD in Oxford I developed my skills in thinking like a scientist, how do find out new stuff about nature? How do you design questions that you can answer using experiments in the lab? Using these skills, and the skills I had in molecular biology, I found out a little bit of new knowledge about how plants can tolerate toxic heavy metals. That's really what a PhD is, a qualification to show you have found out something that no one ever knew before.

Once I finished the PhD, I moved to Norwich (with Sarah who I met in Bristol), we got married, and I got a job as a post-doctoral ('post-doc') researcher at the University of East Anglia studying how plants defend themselves against disease. Post-doc jobs are often short term contracts, so after I'd learned a lot, and discovered another nugget of knowledge at UEA, I started another post-doc job back at the John Innes Centre. From there I never looked back, I worked on two different post-doc projects, I discovered a lot and published lots of papers (this is important- if you discover new stuff but don't let the world know, what's the point in doing it?).

Then I landed a permanent job in Saskia's lab as a research assistant, and for the last 10 years I have been putting my skills to use, helping others develop their skills, and most importantly doing lots of SCIENCE.

TLDR, science is more interesting than loading pallets in a warehouse.

My Interview

What did you want to be after you left school?

I knew I liked science, but I didn't know what sort of job I would like to do.

Were you ever in trouble at school?

I was good at looking innocent

If you weren't doing this job, what would you choose instead?

Maybe I'd start a brewery

Who is your favourite singer or band?

The Pixies

What's your favourite food?

Anything. Except tripe. Or okra.

If you had 3 wishes for yourself what would they be? - be honest!

I'd like more time in the day, a new bike, and a limitless supply of energy

Tell us a joke.

Why are aphids unpopular? Becuase they suck.
---
---
---