Profile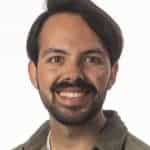 Thomas Navarro
About Me:

I am a half french and half mexican hybrid (plant pun intended 🌱) doing a PhD in plant science at the John Innes Centre (JIC) in Norwich. My main hobby is dancing and I currently practice irish, tap, hip hop, and commercial 🕺 I also love cooking, watching series, and playing videogames 😁

Read more

I mostly grew up in Mexico and have travelled a lot to France to see my family. I can speak both french and spanish fluently which is a skill I am grateful for. During my undergrad I lived one year abroad in Finland, where I met amaing people, discovered new places and created very cherished memories. Once I finished my degree I moved to Norwich for work and I am now doing my PhD.

I consider myself a very active person whenever I am in a community. Not only I am a PhD student at the JIC but I am also chair of the student voice, a group of students dedicated to plan social events and tackle all sorts of challenges students face. I consider myself very social and love meeting people at work all the time. I also enjoy being involved in all kind of science communication events where I can interact with the general public and students like you!

My main hobby is dancing. I am part of the University of East Anglia (UEA) tap dance club and dance squad. This year I am even participating in dance competitions with a group irish dance choreo! I also love watching all type of series, especially if they are animated, and enjoy playing all sorts of Nintendo games such as Pokemon and Legend of Zelda.

My pronouns are:

he/him/his. Please let me know yours as well 😊

My Work:

I am doing research on potato plants! 🥔 MY goal is to improve the quality and nutritional value of potatoes to make them a better food for everyone who loves eating them 😁

Read more

Potatoes are delicious and full of starch, which gives us a lot of energy! Starch is the most common sugar in nature. All plants make strch to grow healthy and strong, but we humans also eat lots of starch. Whenever you eat bread, pasta, rice, or potatoes (carbs!) you are consuming foods with lots of starch. The problem is that your body digests starch very fast and releases a lot of glucose (the main sugar molecule) in your bloodstream; we call this glycaemic index. If your diet is high in carbs this can lead to increase risk of diseases such as diabetes and obesity.

My research aims to change the structure of starch and create something we call 'Resistant Starch' so it becomes harder to digest. Why on earth would I want to make it more difficult for our body to digest potatoes? This is actually good for our body! Resistant starch is similar to fibre, which is found in many other veggies, especially green ones. Since it is harder to digest it releases less glucose in your bloodstream, your glycaemic index is lower and your diet is healthier. This is also good for other processes in your digestive system.

I am trying to use new technologies to achieve my goal of changing starch in potatoes. For that I need to look ver very deep at the DNA and genes of potatoes and understand how is starch made and how I can modify it. If you have any questions of how I want to do this I am more than happy to answer!

My Typical Day:

I usually like to start between 8 and 9 am. Sometimes I do exercise before work which really pumps me up for the day! I then either plan experiments, go to the lab, or work at the computer. I have lunch with people from the lab or friends from the institute. I aim to finish my day around 5 pm as I usually have dance classes and rehearsals after!

Read more

At the moment I am doing a lot of computer science for my PhD project. This means I spend most of the day in front of the computer analysing data and writing the code to do it. I also have a lot of online meetings with people wrking on similar topics. I have the flexibility to work from home and I do it abut once a week but I love going into the office and be surrounded by people. I also love cycling to work and do that every time I go to the institute, which is a healthy moment for my day given I spend a lot of time sitting down.

In the past (and surely the future) I have worked with plants at glasshouses and I really enjoy that. It is very nice to see them growing and spend some time alone with them. I grew many potato plants last year and cannot wait to grow more this year!

After work I usually go to dance classes taking place most of the week evenings. Dancing for me is very important as it allows me to disconnect from the work day, do something for myself, and take care of my physical and mental wellbeing.

My CV

Education:

Most of my education was done in Mexico. I have a BSc. in Biotechnology Engineering from the Tecnologico de Monterrey university, Mexico City. During my degree I studied one year abroad at the University of Tampere, Finland. I am now doing my PhD in plant science at the John Innes Centre (JIC) but I am a student of the University of East Anglia (UEA), Norwich UK.

Work History:

After my undergraduate I worked as a laboratory technician for a company called Tropic. They are based in Norwich as well. I worked over 2 years with them with banana plants in the lab and glasshouses.

Current Job:

Employer:

David Seung (research lab)

My Interview

What did you want to be after you left school?

I always wanted to do science but never thought I would end up loving plants so much!

Were you ever in trouble at school?

Maybe once or twice because I am a very chatty person...

If you weren't doing this job, what would you choose instead?

Oh this is so difficult! Maybe human science or something totally different

Who is your favourite singer or band?

It changes all the time but at the moment I love Florence + The Machine

What's your favourite food?

Anything cheesy! I love cheese very much (maybe that is my french heritage)

If you had 3 wishes for yourself what would they be? - be honest!

That I could teleport (to see my family very easily), that all my experiments are always succesful, and that I could learn easily all the dance styles in the world!
---
---
---